Hello, folks! Today I share with you how to make the best-ever Jamaican-baked turkey wings!
Jamaican baked turkey wings are a traditional dish that consists of soft turkey wings baked in the oven with Jamaican seasoning. This excellent and simple recipe is a favourite among Jamaican food enthusiasts. Overall, Jamaican baked turkey wings are an excellent and fulfilling meal option for any time.
So here we Start this family recipe and take you on a mouth-watering journey. Take advantage of this unforgettable culinary experience!
Ingredients
2 lb of Turkey wings
1 Medium Onion, sliced
2 tsp Garlic powder
1 tsp Onion powder
2 tbsp Seasoning salt
2 or 3 Green Pepper, sliced
2 tbsp Brown sugar
Mushroom-flavoured soy source
2 piece lemon, juiced
Carrot juice
Tools
Large cooking tray
Measuring spoon
Chopping board
Foil paper
Knife
Oven
Preparing Jamaican Baked Turkey Wings
Step 1: Wash and clean up
To prepare these delicious Jamaican baked turkey wings, thoroughly clean and wash the meat with fresh lemon and trim any excess fat.
Step 2: Add Garlic Power and salt
Season the turkey wings with a blend of garlic powder, onion powder, seasoning salt, and cumin. These spices add depth and complexity to the dish, creating a flavorful and aromatic experience.
Step 3: Add Onion and Papers
Now, add chopped onions and green peppers to the tray, ensuring that the slices are finely chopped to prevent them from dissolving and losing flavour while cooking.
Step 4: Add more ingredients
Add paper and mushroom flavour soy sauce to the cooking tray. This ingredient gives the dish a distinct and tasty flavour and is also a popular component in Jamaican cooking.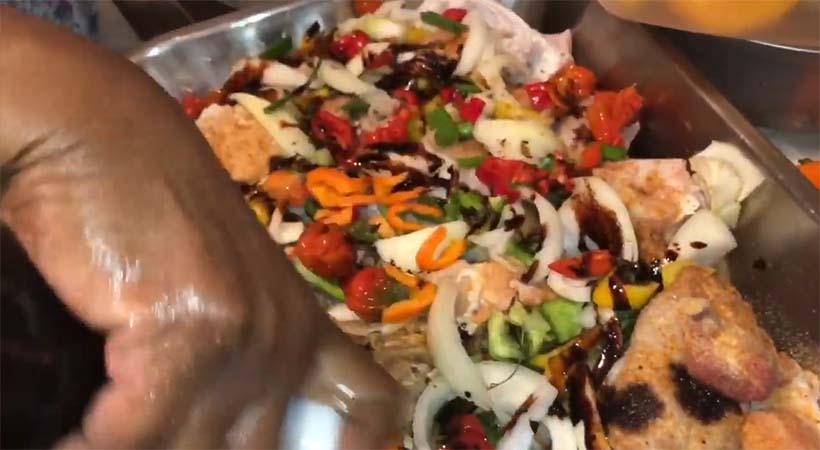 Step 5: Mix them well to marinate
After adding all the ingredients, mix them thoroughly and wrap the cooking tray with foil paper to get a better result while cooking it in the oven.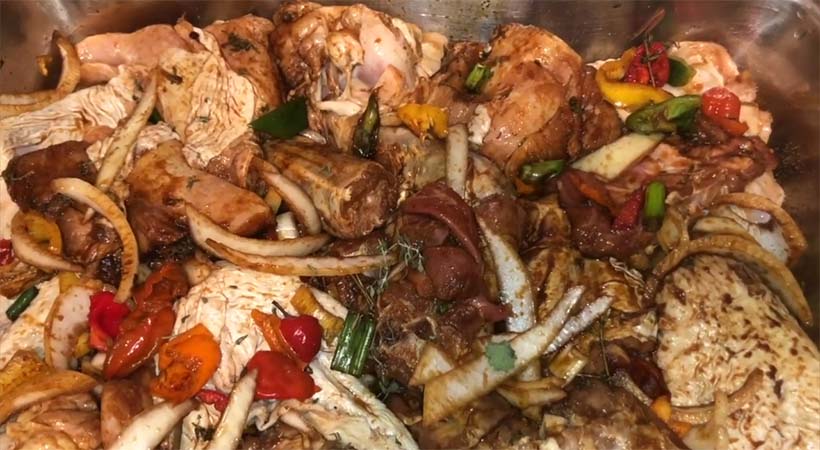 Step 6: Bake The Wings
Put the turkey wings in the oven at 400 degrees Fahrenheit and bake for 25-30 minutes. After 25 minutes, flip them over and bake for another 25-30 minutes to ensure the turkey wings get even browning on both sides.
Step 7: Serve and Enjoy
Plate the turkey wings and serve them hot with your favourite side dishes, such as rice and peas or roasted vegetables. Enjoy your delicious and flavorful Jamaican-baked turkey wings!
Tips and tricks
Always remember to flip the turkey wings when baking the turkey in the oven so that the meat gets adequate heat and becomes softer.
It is always important to wash the turkey wings before you cook them that way you won't have to worry about a healthy and fresh meal.
FAQ
How long to bake the turkey in the oven at 400 degrees Fahrenheit?
You need to cook for around 50 to 60 minutes in the oven and it also depends on the amount of turkey meat plus the other ingredients and vegetables you have added.
Do you cook turkey covered or uncovered?
Cooking the turkey covered with foil paper makes it cook faster and the inner meat of the turkey gets enough heat and gets cooked well.
Is turkey wings good for cholesterol?
No, turkey wings are high in cholesterol. Therefore if you have a heart condition or don't want to consume high-cholesterol meat, avoid eating this.
Why won't my turkey wings get crispy?
If your turkey wings got undercooked, then they will not get crispy so try to keep that in mind and don't rush while baking it in the oven.
Are turkey wings healthier than chicken?
Both are healthy; in some ways, turkey wings are better and healthier than chicken wings. In specific ways, such as vitamins and minerals, chicken wings or meat will win the race over turkey wings. Both are healthy for adults, but you should avoid them if you have a medical condition.
Conclusion
In conclusion, these Jamaican-baked turkey wings are a delicious and flavorful addition to any dinner table. With the perfect blend of spices and ingredients like mushroom soy sauce and carrot juice, these wings are sure to impress your family and friends.